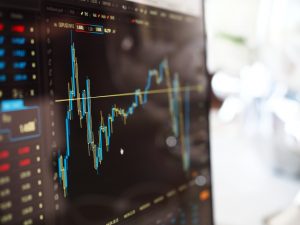 Everybody knows the story of stocks like IBM and Apple going from nothing to billion-dollar stocks worth thousands over night. But these tech giants are far from the only ones that have made such a drastic transition and there are far more recent examples that we can draw on to show you just how much money can be made if you're able to correctly predict the success of a relatively low-priced stock.
True Jeans
In the summer of 2004, the Canadian designer jeans brand, True Religion, was trading for as little as $0.67 per stock. It was a penny stock that few people predicted would do well, but just 9 years later the owners agreed a deal that saw the company change hands for over $800 million, returning a price of $32 a share for every lucky shareholder.
To put this into perspective, if you bought $32 worth of shares in July 2004 and then sold them when they were trading at $32 apiece 9 years later, you'd have over $1,500. If you invested just $500 in those penny shares when they were at their lowest then you could have sold them for a high of just under $24,000.
BJ's Restaurants
These shares, which trade on the NASDAQ, took a little longer to go from their lowest to their highest, but the story of them is still worth telling as it's raw for a chain restaurant group to experience such highs and lows in such a short space of time.
BJ's Restaurants had their IPO in 1996 when their shares were priced at a reasonable $5 each. Just a couple years later they dropped to less than $1 and things weren't looking very good for the US restaurant chain.
However, around a decade later the shares hit $50, before climbing to around $75 in 2018. They have now dropped below $50, but if you had bought at their lowest and sold now, or when they hit $50 a few years ago, your ROI would be over 5,000%. If you bought at their lowest and sold at their highest, it would be closer to 8,000%.
General Growth Properties
Around 10 years ago General Growth Properties, a real estate investment firm, went though some really tough times. They dropped to a low of around $0.30 towards the end of 2008, when the market was in a slump, and in 2010 they declared bankruptcy, causing many shareholders to jump ship.
Those who didn't, however, were rewarded for their loyalty as the shares went through the roof, hitting $25 just 8 years later for a ROI of over 8,000%. At the time of writing they have remained stable at around $22, without many ups and downs to worry about since they hit their highest point a few years ago.
Plug Power
The NASDAQ traded Plug Power manufactures hydrogen cells and they epitomise everything that penny stock traders look for. In 2013, these stocks were trading for an all-time low of $0.15 apiece. Fast forward just 1 year and those shares were trading at over $10 each for a profit of over 6,500%.
The stocks have been up and down since then, hitting $5 shortly after they reached their highest ever count and then going on a free-fall after that. They went down to below $1 in 2017 and at the time of writing they are trading at $2.55. Not as high as $10, but if you bought at $0.15 you'd still be pretty happy with the current price.
Monster Beverage
The Monster Beverage brand is everywhere these days and if you asked the average consumer when this brand was founded they'd probably guess at 10 years ago, maybe less. In actual fact, they have been around since the 1930s, they just took a long time to become a household name and went by the name Hansen Natural in the early days.
Monster, which is traded on the NASDAQ, hit their low point in the mid-90s, when their share dipped below $1 and then dropped to an all-time low of $0.69. If you were around to speculate at this time, you took a chance on Monster Beverage and you held onto those shares over the years, you could have cashed in for a high of over $70.
That's an ROI of over 10,000%. To put that into perspective, if you dropped just $100 on those penny stocks back in 1995 and then forgot about them until they reached their highest point, you could cash-in for a staggering sum of $10,000!. If you were to have spent $1,000 you would how $100,000, while $10,000 would have netted you a cool $1 million.
Predicting Penny Stock Success
There is no easy way to predict the success of a penny stock. If there was, the stock market would be the easiest game in the world and would be as surefire as MLM products for turning speculation into cash. However, a little research and luck can go a long way. The trick is to look into the market trends and the way that certain industries are shifting and then find the stocks that match.
For instance, if you had predicted the rise of streaming services 10 years ago you may have sunk your money into Netflix (although there is just as much chance you would have leaned towards bigger media companies at the time) and you would have been rewarded in kind. If you think that 3D printing or virtual reality is going to be huge and a mainstay in everyday life, find the companies that will profit from it the most.
There are no guarantees and you could spend a lifetime speculating and not get anything in return, but when these speculations do pay off they will more than make it worth your while.