Earlier this year, Frontdoor, Inc [NASDAQ: FTDR] took the market by storm after the announcement that the company would be spun off from ServiceMaster in the fall. Following the introduction of the new company, stock prices surged beyond $30 to just cents shy of $50 in barely more than a month. All things remaining equal, Frontdoor was looking to easily double in value in a short amount of time. That is, until things took a turn.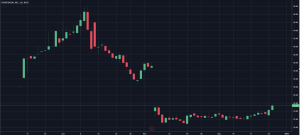 Since its strong rise, Frontdoor's stock price has declined significantly, closing the day at only $25.35 at the time of writing. The company's current price is discounted nearly 50 percent from its previous high, but what's behind the downturn and what lies ahead for this stock looking forward? Let's take a look.
The Subsequent Fall
"What comes up, must come down," and Frontdoor shareholders understand that sentiment well at this point. After its introduction to the market, Frontdoor peaked at just a few cents shy of $50 per share; an impressive climb for the spinoff during that occurred during the longest American bull market to date. Following a selloff early in October after the Frontdoor fire cooled to a sizzle, things took a significant turn after the company's first earnings report since separating from ServiceMaster Global Holdings.
According to Bloomberg, Frontdoor shares plunged as much as 35 percent after the company's first earnings call in November on the news that they were cutting adjusted EBITDA outlook from $245-$255 million down to $215-$225 million. Frontdoor noted higher claims costs and continued investments into sales and marketing as reasons behind the 2018 adjustment, something traders did not take kindly to as shares bottomed out at the $22.75 price point.
Ian Zaffino, an analyst with Oppenheimer included that "We are highly disappointed, given it is the company's first earnings release and management recently provided guidance." A combination of a small earnings miss and disappointing guidance led traders to consider that the profitability of the business is weakening, and that's not all.
Besides the quantitative data behind the decline, Frontdoor hasn't had excellent reception from consumers since successfully spinning off. Bad news isn't coming from just the corporate side of things, but from American Home Warranty client reviews as well for brands like American Home Shield (AHS)—a part of Frontdoor.


Client reviews haven't been overwhelmingly positive, with some sites reader reviews giving negative feedback over twice as much as positive. With that in mind, it doesn't necessarily mean the company is a bad option, here's why.
Looking Forward
Though the market hasn't been kind to Frontdoor to close 2018, it doesn't mean there isn't a potentially good opportunity here moving forward. It's important to remember that AHS is only one brand from Frontdoor with many others including Oneguard, HSA, and Landmark.
Paul Fanelli with Gabelli Funds is still looking at the company as a buying opportunity as he expects the company to show improvements on the issues mentioned in the earnings report over the next few quarters such as the higher rate of replacements vs repairs and part sourcing. At the same time, Oppenheimer's Zaffino expects that the company has the potential to return normalized margins within the next year, and they're not alone.
Contributing to SeekingAlpha, Cardon Capital still sees significant room for a strong return from Frontdoor. According to the Cardon, Frontdoor represents a company with an attractive business model, reasonable growth prospects and a wide moat." Furthermore, Cardon believes Frontdoor is currently priced for a "60%-85% return over a 1-3 year horizon" stating that "we view this as an opportunity for investors to buy into a high quality company at an attractive price."
With Frontdoor trading downward over the past two months, value investors are likely to see the current pricing not as a lost cause but as a great discount on a stock with high growth potential moving forward. As Cardon says, maybe you shouldn't be shutting the Frontdoor—buy it!