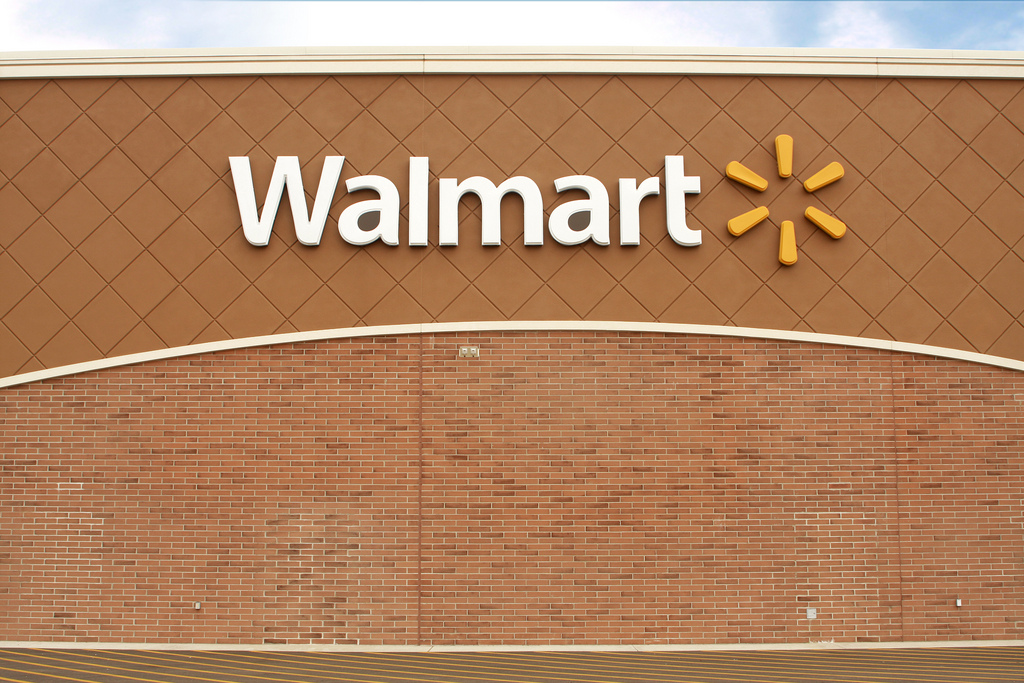 We've covered quite a few big names in the stock market on Buy Shares In. From Google and Amazon to Tesco and Twitter, we like to keep you in the loop with strong investment opportunities. But it seems we've missed an obvious choice; Walmart stock. We've had several readers ask for an investment guide about this retail giant, and we aim to please. So, without delay, here's everything you need to know about Walmart the company and about buying Walmart stock.
Buy Walmart Stock
Walmart stock is listed on the New York Stock Exchange, and has been since 1972. Prior to that, Walmart issued its IPO in 1970, offering 300,000 shares at a price of $16.50. To buy Walmart stock today, you need only contact your broker to purchase shares. This can be done through most traditional brokers as well as online discount brokers such as Trade.com or eToro.
Walmart stock, throughout history, has remained fairly reliable as a source of dividend payout for investors. We'll take a look at that in just a bit, but suffice to say that it annual dividend payout currently stands at $2.00 per share, quite an impressive number.
Walmart has several competitors. Amazon is a competitor to the company, as are Target and Costco. Dollar General is also said to be a competitor, although Dollar General stores don't operate on the scale that Walmart locations do. Finally, Walmart opened its first Supercenter in 1988. Since that time, it's become a large player in the grocery industry. The store has indirect competition from grocers such as Kroger and Publix.
Walmart has come under fire quite a few times for its practices, including labor standards and outsourcing policies. But despite this, Walmart has certainly earned a reputation as a discount retailer. Consumers on a budget depend on Walmart and its "rollbacks" to buy household essentials, clothing and even power tools.
This reputation is why Walmart remains such a huge player in the stock market. Its range of products spans many industries, and consumers have come to trust the brand despite the occasional news headlines.
Walmart Stock Exchange
Walmart is listed on the New York Stock Exchange, the largest in the United States. You don't have to live in the United States in order to buy shares in Walmart, however. Walmart stock can be bought through most international brokerage firms. Be sure to check currency conversion rates, and inquire about fees associated with NYSE orders.
Walmart Stock Symbol/ Stock Ticker
Since 1972, Walmart has been listed on the NYSE under stock ticker WMT. The company generates over $500 billion of sales revenue each year. The company maintains a global presence with 11,500 locations, and has an online presence as well.
We mentioned Walmart's 300,000 shares offered at $16.50 at its initial public offering (IPO). With a valuation of over $200 billion today, the Walmart stock symbol is one which is widely recognized by investors.
Walmart Stock Price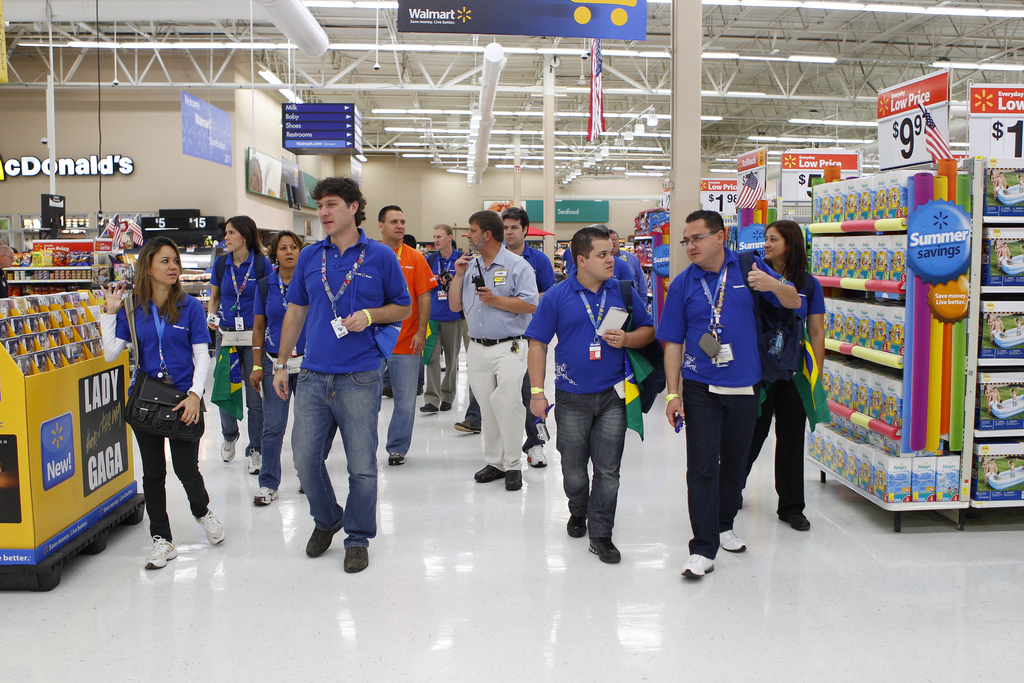 At time of writing, Walmart stock price was listed at $76.52 per share. In the past 12 months, the stock reached a low of $65.66 in January of 2017, and a high of $80.26 in June of 2017. These outliers are very close to the Walmart stock price today. For the most recent Walmart stock price, check the tickers on each of the Buy Shares In pages.
Walmart Stock Price History
In its 45 years of history on the New York Stock Exchange, Walmart stock has consistently increased in value. Even during times of recession in the United States economy, the stock has rebounded and remained a strong performer. While at times the stock hasn't experienced quick growth, the dividend yield has been a dependable source of income for long term investors.
Walmart Stock Dividends: History
It's recently been announced that Walmart stock dividends are set to increase to $.51 per quarter per share. This is a slight bit higher than the $.48 per quarter which investors enjoy now. Historically, Walmart has been generous in paying dividends to its investors.
Walmart Stock Split
Throughout the history of WMT stock, investors have seen 11 stock splits. All of these WMT stock splits were 2 for 1. That is, if an investor owned one share of WMT stock prior to the split, he would own two shares post split. The value of his investment would remain the same.
Typically, a company will split stock for one of several reasons. The company may want to encourage smaller investors to invest in the company. Trading at high prices may be slow, and a stock split may be issued to increase demand for the stock. Or a company may choose to split stock simply to bring the price of its stock down to a similar price as its competition.
Walmart Stock News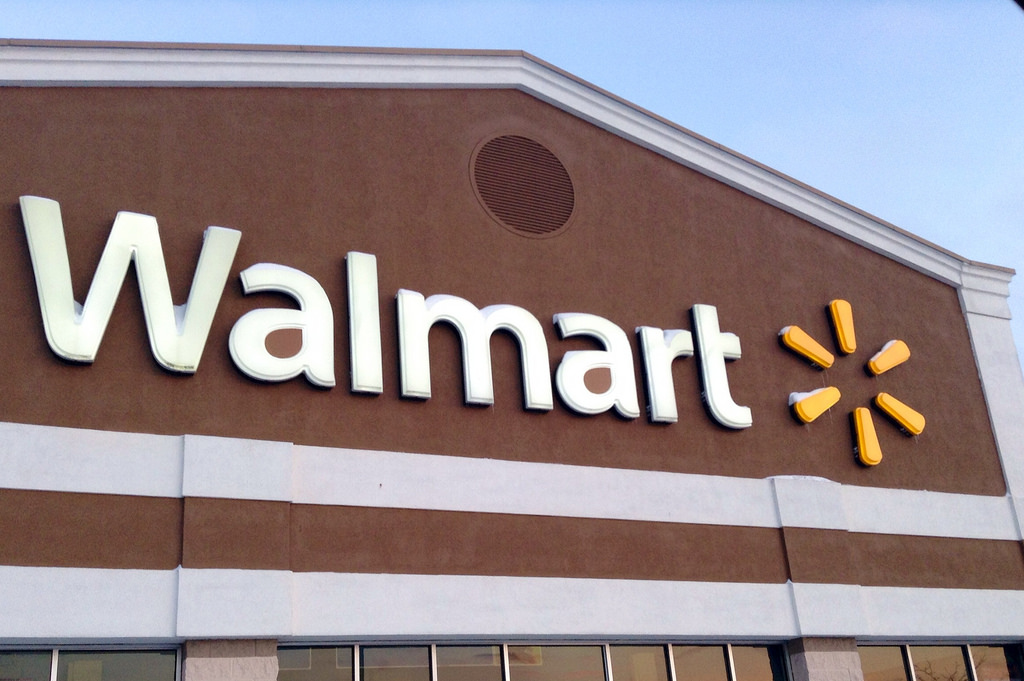 Recently, Amazon (NASDAQ:AMZN) bid to purchase food seller Whole Foods (NASDAQ:WFM) in late 2017. Following this news, both retail stocks and grocery stocks plummeted. Walmart as well as Target (NYSE:TGT) stock prices dropped while Amazon's share prices rose. Grocery stocks fell drastically while Whole Foods stock skyrocketed.
Such is always the case with stocks – investors react very quickly to news which may impact the industry. But Walmart stock has historically maneuvered through market and economy crises, and we think it will continue to do so.
Walmart is continually expanding its online presence, and may soon be a direct competitor to Amazon. It's got feelers out in both the web services and music industries, and has got healthcare services in the pipeline. It's fair to assume that so long as Walmart broadens its offerings, it'll remain a good investment for long term shareholders.
WMT Message Board
If you're looking to find more information about WMT stock from those who are currently shareholders, check out WMT message boards. These are a great way to collaborate with others on the latest Walmart stock news and information.
And of course, be sure to check back to Buy Shares In for news and investment guides for popular companies. Search for information in the search field above, or browse through our investment guides in the header on this page.