Wegmans stock is something we've been asked about a lot on Buy Shares In. Grocery stocks, as a whole, are very popular; as it would turn out, everyone needs to buy food from somewhere. Like Aldi and Lidl, though, you can't buy shares in Wegmans. Let's take a look at the company, its finances, and whether a Wegmans IPO is on the horizon.
Wegmans Stock
Because Wegmans is a privately-owned company, it's impossible for an investor to buy Wegmans stock. The company was founded in 1916 as the Rochester Fruit and Vegetable Company. Like many grocery stores, it had very humble beginnings.
The first Rochester Fruit and Vegetable Company was just that. Brothers John and Walter Wegmans parents owned a small store in Rochester, New York. John sold fruit and other produce from a pushcart in front of the store. But while he sold fruit, he was learning the family business.
In 1916, John Wegman opened the first Rochester Fruit and Vegetable Company. Walter joined John Wegmans business venture, and the store became more and more successful.
It wasn't until 1968 that the stores began to expand beyond the Rochester area, however. The men first opened a store in Syracuse, then in 1977 they opened a Buffalo location. In 1993, the company expanded operations to include the lake town of Erie, Pennsylvania.
Today, Wegmans operates all along the east coast. There are locations in Maryland, Virginia, Massachusetts, Pennsylvania, New Jersey, North Carolina and, of course, New York. So how is Wegmans doing, financially? Why can't you buy Wegmans stock?
Buy Wegmans Stock
Wegmans is, in some areas, considered a unique grocery store. It could be best compared with Ingles, for a few reasons. First, Wegmans operates around 100 stores along the east coast. Ingles operates around 200, all in the Southeastern United States.
The stores are similar in price points. While some markets, like Harris Teeter or Kroger, offer higher prices for staples like milk and tuna, Wegmans and Ingles offer lower prices. Still, both stores strive to provide the same atmosphere as these "elitist" chains.
Inside a Wegmans store, you'll find private label brands as well as organic products. But you'll also shop for the basics. Meats, dairy, produce and health and beauty supplies can all be bought at Wegmans, for a price that's lower than some other chains.
You can't buy Wegmans stock. However, employees can – kind of. Wegmans employees are eligible for a profit sharing plan. Employees receive other benefits as well. Many attribute these benefits to the success of the company.
Colleen Wegman, President and CEO of the company, is the great-granddaughter of Walter Wegman. She, and others in leadership positions, claim that the turnover for employees in the grocery industry is 100%. Wegmans has about a 38% turnover rate, and C. Wegman states that benefits are a large part of this. Turnover of employees is expensive; keeping employees happy with a full benefits package is more cost effective.
Wegmans Stock Ticker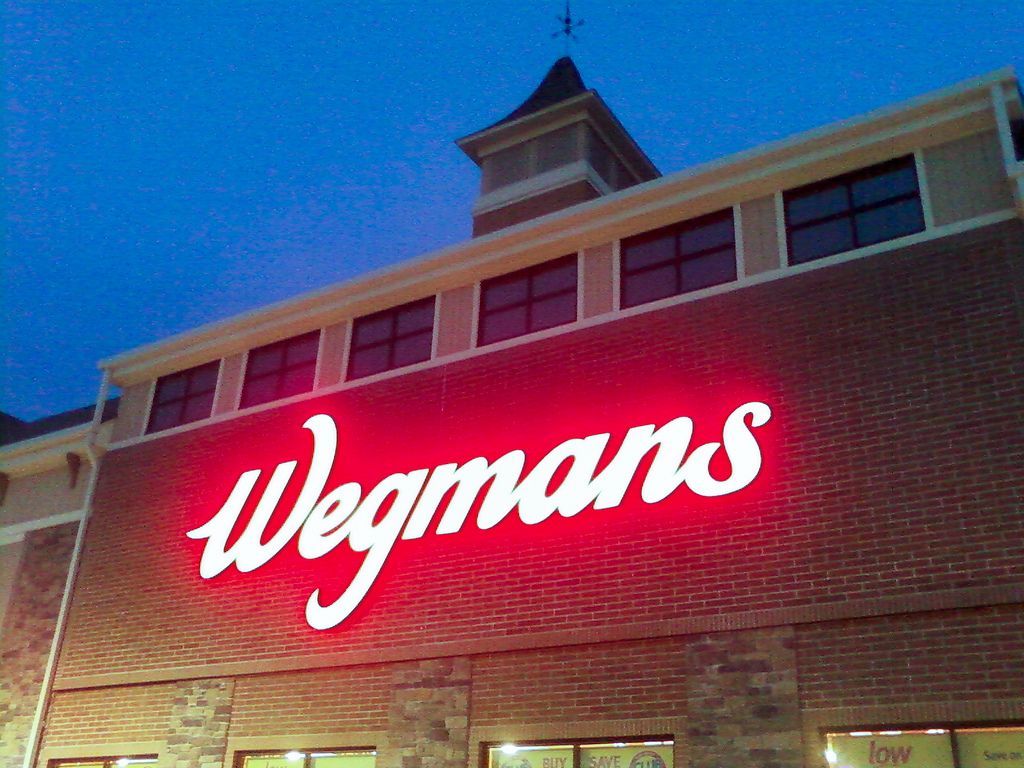 There is no Wegmans stock ticker. In fact, there are no plans for a Wegmans IPO at all. Wegmans leadership says that they're doing just fine without the input of investors. This mindset can be likened to that of Aldi and Lidl executives.
It's not necessary for a privately owned company to release financial and earnings information. However, Wegmans chooses to do so. In 2016, the company saw sales of $8.3 billion. The chain is also consistently ranked very highly in the industry, in many categories.
Since 1988, Wegmans has appeared on the Forbes' annual list of 100 Best Companies to Work For. Since 1009, it's ranked in the top ten on that list. Wegmans is also in the top 30 of the 2017 Supermarket News list of the top 75 supermarkets, ranked by sales.
The success of Wegmans could perhaps be due to its slow expansion. As the company gradually expanded to cover a larger geographical footprint, sales and success increased. It's unclear as to whether Wegmans will expand to other states in the future. However, the most recent opening of four stores in North Carolina hints that this might be the case. The stores are located in Cary, Chapel Hill and Raleigh.
You'll see Wegmans in the news from time to time. The company regularly donates to charitable causes. Check out the Wegmans Wonderplace at the Smithsonian National Museum.
Wegmans Stock Symbol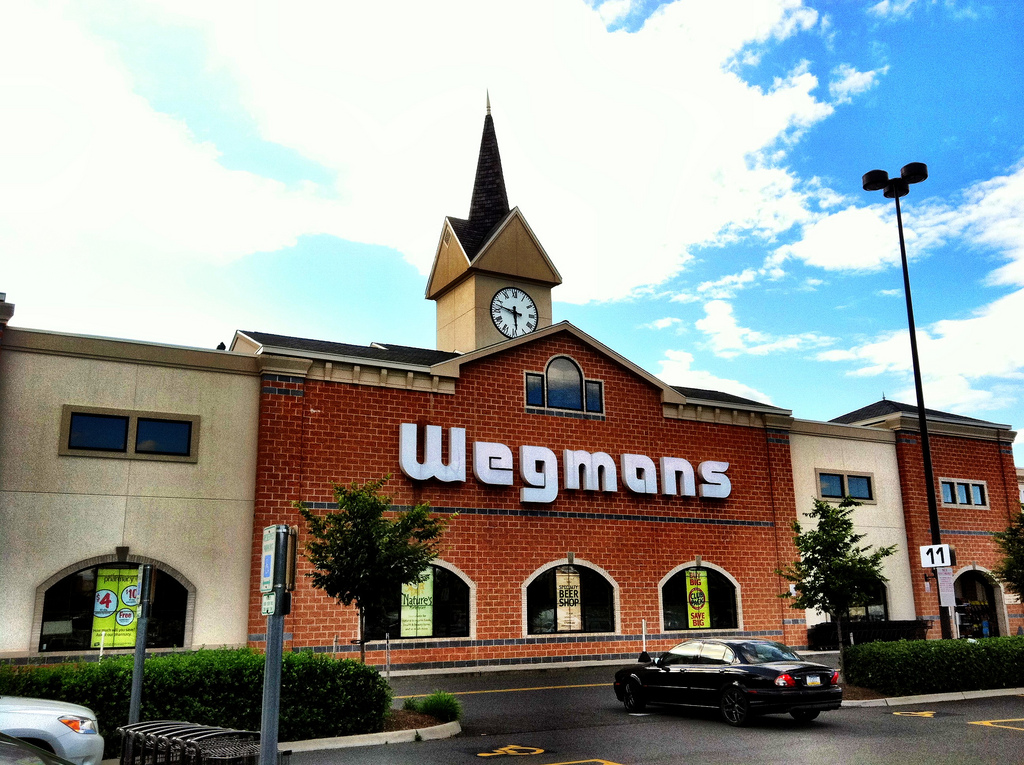 As you now know, there's no Wegmans stock symbol. The company is privately owned, and it would appear that the plan of the executives is to remain a private company.
Wegmans does, however, have competitors investors might find interesting. While many grocery stores are privately owned, there are options for investors seeking a publicly traded company.
Kroger, as mentioned earlier, is one such store. Kroger is traded on the New York Stock Exchange under ticker symbol KR; shares in Kroger are currently priced at $22.
SuperValu is another American retailer which has grocery chains. The company also owns pharmacies, and serves as a supplier to other grocery chains. Investors can buy stock in SuperValu for just under $15 per share. It's listed on the New York Stock Exchange as SVU.
Of course, some of the largest grocers in the United States include Walmart and Target, Furthermore, Amazon now owns Whole Foods, and is expanding its presence to incorporate the grocery industry.
If you'd like to explore international grocery chains, do check out our investment guides on other groceries. Of course, just as in the United States, many of these chains are privately owned. But investors might be interested in, for example, Sainsbury's or Tesco, two of the biggest grocers in the UK.
If you're more of a takeout-type investor, you might also be curious about restaurant and fast food stocks. Yum! Brands is one of the most well-known of these. The company owns brands KFC, Taco Bell, Pizza Hut and has locations internationally.
Keep checking back to Buy Shares In for the latest information regarding Wegmans stock and a Wegmans stock symbol. If news is released to announce an IPO for the company, we will be sure to update you here.