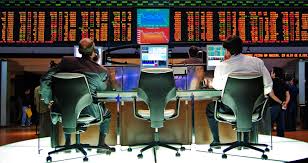 The Karachi Stock Exchange, which is now operating under the banner of the Pakistan Stock Exchange, is one of the smallest exchanges we have covered here on Buy Shares In. But it's still an exchange that our readers want to learn about, so that means there has been a lot of interest in it from readers in Europe and the United States. In this guide we'll cover all of the basis regarding this Pakistan stock market, including news, live rates, and the companies that are listed on the Karachi Stock Exchange.
The Pakistan Stock Market
The Karachi Stock Exchange was founded by in 1947 and was recently incorporated into the Pakistan Stock Exchange along with the Islamabad Stock Exchange and the Lahore Stock Exchange. However, the Karachi Stock Exchange is much bigger than those two exchanges. Following the integration of these exchanges, the Pakistan Sock Exchange is now the only stock market in Pakistan.
Prior to this, and even following it, the Karachi Stock Exchange was one of the best performing exchanges in the world, with indices that are often rated amongst the best. That's why it generates so much interest. In 2002 it was voted as the Best Performing Stock Market in the World and it is regularly voted in the top ten for the same category. With the additional Pakistan stock markets added to the mix, this performance has decreased a little but as those exchanges have not proved to be as good as the Karachi Stock Exchange.
However, together those markets still perform very well and the Pakistan Stock Exchange is one of the best performing stock exchanges in the world as a result. The means that it's a great exchange for investors to sink their money into.
Karachi Stock Exchange: Biggest Companies
This is the main Pakistan stock market, so many of the biggest companies in Pakistan are listed here. These include construction companies, cement companies and railroad companies, the very businesses that built modern Pakistan. They also include those involved in the automobile, retail and pharmaceutical industry.
Unlike the London Stock Exchange, there is a very small number of foreign companies listed on this Pakistan stock market, but they do exist. Some of the biggest companies listed on the Karachi stock market include banks like Allied Bank, JS Bank and United Bank; Food companies like Treet Corporation; oil and gas companies like Burshane LPG and Shell Pakistan; and real estate companies like Dolmen City Reit.
Karachi Stock Exchange Indices
There are four main indices on the Karachi Stock Exchange, all of which remain after the creation of the Pakistan Stock Exchange. These are:
KSE-100 Index (KSE-100)
KSE-30 Index (KSE-30)
KSE-All Share Index (KSE-ALL)
KSE Meezan Index (KSE-MI30)
Pakistan Stock Exchange: Price of Shares
Don't think that just because you're not investing on the world's biggest markets like the NYSE and NASDAQ that you can somehow invest for next to nothing. You will still need to get the cash out if you want to purchase shares in the Karachi Stock Exchange. Of course, there are many cheaper shares and the biggest companies don't have the valuations of the biggest ones in the US, UK and China.
But while the money you invest is less, the same could be said for the profits. And if you want the same profits, then you need to invest more money, which puts you back where you started.
Pakistan Stock Exchange News
It isn't always easy to find Karachi Stock Exchange news if you live outside the country. Sites like Forbes just don't seem to cover it and only ever report on it when it is making the headlines following another successful quarter or year. However, you can stick with the main newspapers in both India and Pakistan, both of which like to cover it.
These include newspapers like The Economic Times of India, which is actually a great resource for Karachi Stock Exchange news. It's also available in English, and not just the poorly translated English that translating programs often spit out.
Pakistan Stock Exchange Site and Resources
There is a main site for the Karachi Stock Exchange, which has now shifted over to work with the integrated market. However, the last time we went there we were hit with several popups, which is never a good sign. So, we don't really want to link to it, even if we feel we may be doing them a disservice (who knows, maybe that was a one-off).
Instead, here are some sites that can offer you more information and can provide you with a rundown of this exchange, its companies, its market and more. Consider them an extension of this page, albeit with more of a topical feel.
Trade on the Pakistan Stock Exchange
If you want to trade on the Pakistan Stock Exchange and you live in Pakistan, then you shouldn't have too much issue. However, if you ride overseas then it is a different story. As explained on our Online Trading page, even in a virtual world, it's just not always easy for traders to invest their money in global markets. There are still ways, of course, but they often require you to jump through many hoops, go through many checks and generally work for your investment. In the end, you'll probably want to wish you just stuck with the exchange in your own country.
You may be able to "bet" on the success or failure of companies on the Pakistan Stock Exchange by using Forex programs and CFD programs. To learn more about these, take a look at our Trade.com Review and our Plus500 Review. In our opinion, these are the two best programs out there offering this service. However, you can only trade if you are based in a handful of European countries, in Australia and in a few other regions not including the United States.
So, to see even more, take peek at out Best CFD Trading Programs article.