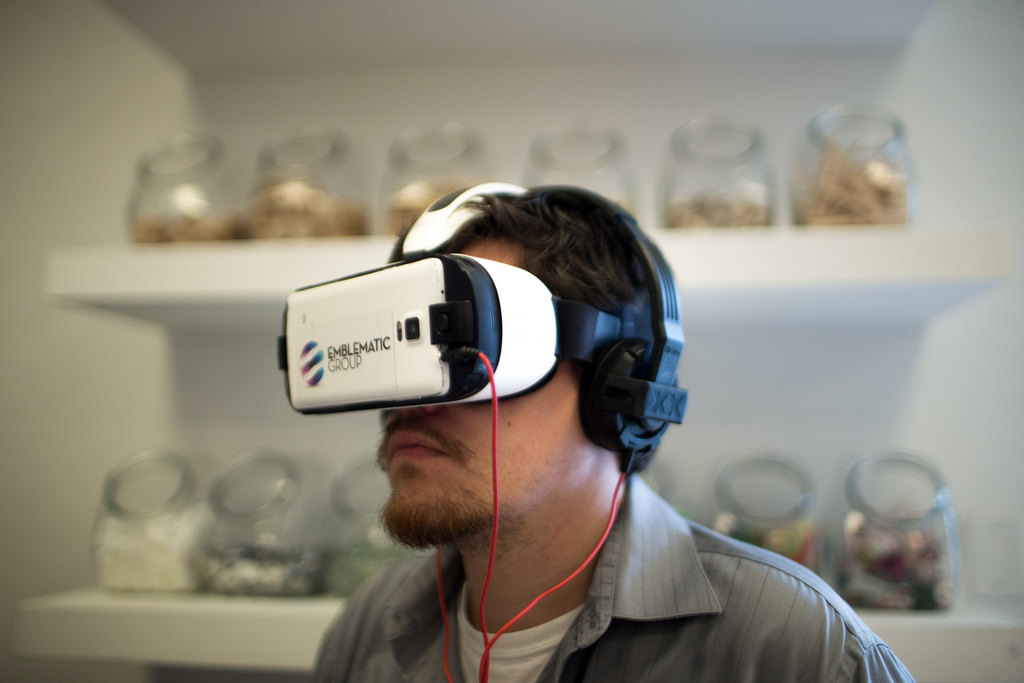 When it was first introduced, virtual reality seemed a thing of the future – a Matrix-style experience using space age technology. But virtual reality isn't a futuristic concept anymore. Some of the biggest names in tech are implementing the use of virtual reality, finding practical ways to use it to enhance experiences for consumers. While the technology is still new, it may be a good time to buy virtual reality stocks.
Here are a few pointers to lead you in the right direction.
Buy Virtual Reality Stocks
You can't just open your trading account and buy virtual reality stocks. You've got to know which companies are in the VR game, and which are doing well. Companies such as Sony (NYSE: SNE), Samsung and HTC (TPE: 2498) are selling the technology for consumer use, and still others like eBay's StubHub and Six Flags Entertainment (NYSE: SIX) are using it to enhance customer experiences. With so many players, it's critical to pay attention to the news; watch trends to see who's making headlines.
There are a few companies which seem to be thriving in the VR market. In 2014, Facebook came to the forefront of the virtual reality field when it bought Oculus for $2 billion. The technology was still in its infancy, but Facebook predicted that it would take off. HTC and Sony are both gaining profits from the sales of their head mounted displays. You've probably seen them in stores – the end user is a typical gamer.
Oculus Virtual Reality Stocks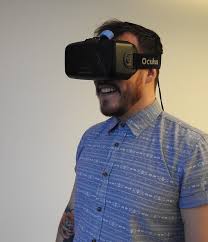 When the company was created in 2012, Oculus was small. A developer named Palmer Luckey created a head mounted virtual reality device, and did things the grassroots way – he started a Kickstarter campaign. The campaign meant to raise $250,000, with donations of $300 or more receiving a head mounted device of their own. But within 36 hours, the campaign raised over $1 million, and the campaign ended at almost $2.5 million.
Over the next year, Oculus worked to develop its headset, the Rift, and did eventually release a prototype for consumer purchase. But in 2014, Mark Zuckerberg of Facebook (NASDAQ: FB) announced that he intended to buy Oculus for $2 million. Zuckerberg has, on multiple occasions, referred to virtual reality as the next personal computing platform, and views virtual reality as a sort of a blank slate. It's unclear at the moment what Facebook intends to do with the technology, but it's very clear that the company is positioning itself as a leader in the industry.
Investors can no longer buy Oculus virtual reality stocks. To take advantage of the Rift's success, they'll need to look into buying shares in Facebook. As virtual reality becomes more than just a gaming platform, Facebook will be at the forefront and the Rift may be the next personal computer.
Samsung Virtual Reality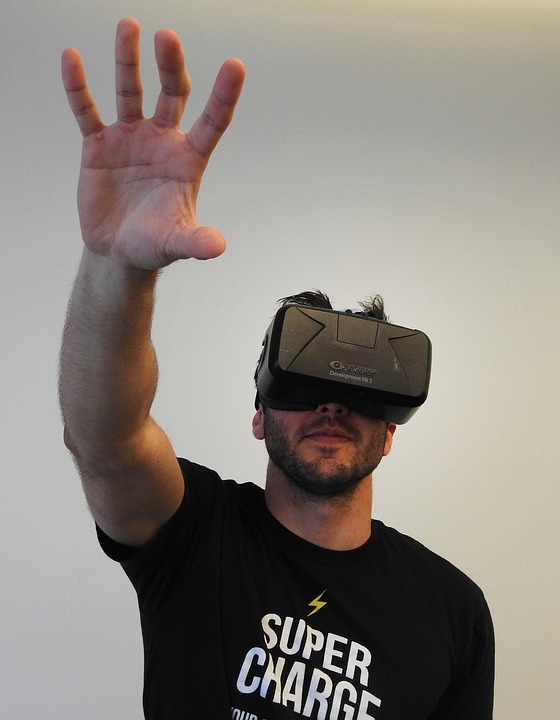 While the company's foray into virtual reality isn't making waves like Facebook's, Samsung is another company to watch in 2017. Samsung's had some trouble lately following the release of the Galaxy Note 7. As you've probably heard, the phone's release was, erm, hot. The device would eventually be banned by the Federal Aviation Administration due to its tendency to explode; it literally became a federal offense to bring the phone aboard aircraft.
But phones are becoming a smaller piece of Samsung Electronics' focus. The company largely deals in displays, network equipment, semiconductors and larger household appliances. Samsung also plays around in virtual reality. For several years, they've been toying with smartphone based VR hardware, and are set to release their newest version of the Samsung Gear VR on April 21st.
Samsung has been a quiet competitor in the VR market since 2015, but after the release of the Note 7, the company has been refocusing its efforts on, well, anything that's not a phone. If you're looking to buy virtual reality stock, keep watch for Samsung in the news. They could come to the front and center of the industry.
Why Buy Virtual Reality Stock?
Facebook and Samsung are only two of the many competitors in virtual reality. There are dozens of companies who want to bring the Matrix movie to life. VR is being used not only for gaming but also in retail clothing stores, sports arenas, real estate sales and amusement parks. The possibilities, as they've not all been discovered, seem endless.
VR hardware is projected to hit $3.6 billion in revenue in 2017, and $120 billion by the year 2020. In short, it's a huge and very rapidly growing market. It's still in its very early stages of development, and tech companies like Sony and HTC are itching to explore the new frontier. Even Microsoft has a Windows 10 VR headset in the pipeline.
How to Invest in Virtual Reality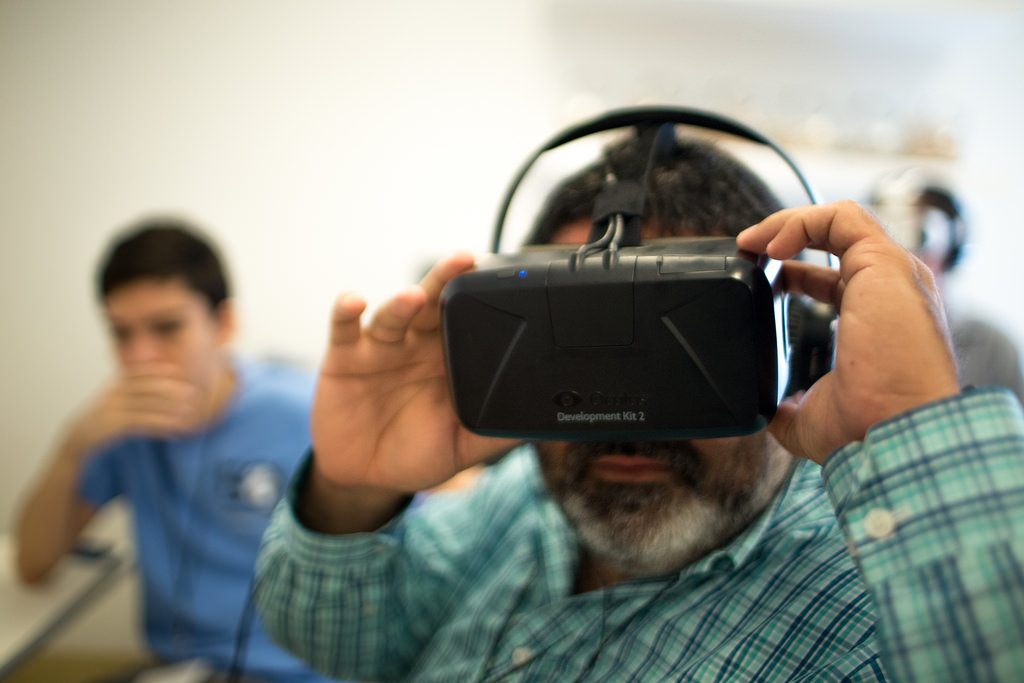 Again, you can't just plug "buy virtual reality stock" into your stock trading software and expect it to return any results. Read the news, and see which companies are toying with VR ideas. Research the companies, and make your decision.
There are very few companies which focus primarily on virtual reality hardware and software. WorldViz was bought by Intel (NASDAQ: INTC) back in 2015, Magic Leap is small, and has been kicking dirt since 2011. You already know that Oculus was acquired by Facebook. To invest in virtual reality, you'll need to invest in the companies which own existing technologies, are developing new technologies, or which have outlined plans to use that technology in new ways. Buying virtual reality stock now may prove to be akin to buying Apple shares in the 1980s.
Similar Investments
If you are interested in buying virtual reality stock, then there's a good chance you will also be interested in other technologies. A lot of the readers that come here looking to learn how to buy virtual reality stock also end up on our page on 3D Printing Stock. This is anther exciting tech of the moment, and one that could yield a sizable profit if you get in while the going is good.
You should also take a look at our tech stock page. Here you will find a host of other investments, as well as many of the companies behind them. After all, these are the ones whose stock you're actually buying.