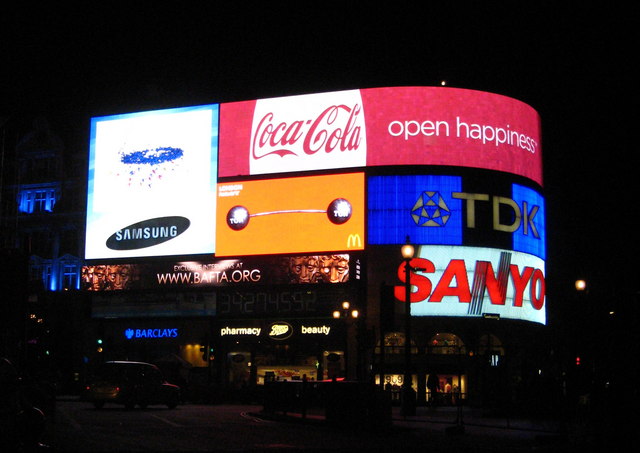 The modern world is dominated by big brands. Studies have shown that children as young as 2 can recognize a series of brand logos and most kids know dozen of logos and slogans before they even learn to read. This doesn't happen by accident, it happens because these brands spend a lot of money to make sure of it.
Why Do the Big Brands Still Advertise?
We've all been guilty of looking at adverts for brands like Mars and Coca-Cola and thinking, "Do they really need to advertise?" I mean, who in the world doesn't already know what these brands? But it's a fickle business and the fact of the matter is that we consider brands to be big and prestigious because we see them everywhere. If Apple started pulling all of their Facebook ads, product placements and commercials, they would gradually fade away, creating a space that other brands would fill. Within a single generation it could go from one of the biggest and most recognizable brands in the world, to one that people barely recognize.
That's why the marketing continues, it's why these brands have a perpetual cycle of commercials, billboards, product placements and other marketing campaigns. But with so much on the go, just how much are they spending? In other words, viral marketing aside, what does it cost to create a big brand like this?
How Much do the Big Brands Spend on Marketing?
The amount that a brand spends relates to the amount of revenue that they receive. They put a significant portion of this to one side to account for all of their marketing efforts, because they know that without it, that revenue would decrease and the brand would eventually fade away.
According to an extensive study on brands and their marketing, the "magic number" was around 10% of total revenue. This means that a brand like Microsoft is spending about $9 billion on marketing every single year.
Of course, this doesn't paint the whole picture. A company that is still finding its way in the marketplace is probably going to invest more, while a company that has a monopoly on the market may decide to invest less and to focus their spend on other areas. The amount that the company receives in revenue also seems to dictate just how much of their total revenue they are willing to spend.
According to the above quoted study, those earning less than $25 million spend around 2% more on average than those earning between $25 and $99 million, while those earning in the billions are not averse to increasing this to as much as 15%.
What Brands Spend Their Advertising Budget on
These days, social media advertising is becoming a key part of any big brand's marketing campaign. Facebook is one of the biggest platforms here, offering publishers the chance to get the word out to targeted users of both Facebook and Instagram. Banks, fast food chains and credit providers are known to spend a lot of money on this platform, as are fashion brands like Nike.
For the most part, this advertising is all about increasing brand awareness and announcing the release of new products. There is no better platform for such campaigns. However, it has also proved to be a great asset for video gaming companies and major retailers in the past, generating positive cash flow in spite of huge spends. In 2012, Electronic Arts were said to have made a "small" investment of close to $3 million on Facebook ads, through which they generated a return of 440% in sales.
While his sounds like a lot of money, it doesn't come close to what others spend. In fact, it's a fraction of the amount that ZYNGA spent in a single month in 2012. In total, the mobile gaming giant gave Facebook over $200 million throughout 2012, and it wasn't the biggest spending year for them.
What About Google, Twitter and Media Companies?
You've probably seen a few "sponsored ads" on the Buzzfeed platform and you may have also seen the same ads on similar sites. But if you were to hazard a guess as to how much they cost the brand, you probably wouldn't get close. The minimum spend on Buzzfeed is $100,000. If you don't have that then they can't help you, and even if you do, it won't get you much.
Buzzfeed is one of the biggest sites for what it does, but it still doesn't come close to the sponsored packages offered by Twitter, who are known to attract tens of millions from major advertisers for single campaigns. And then you have Google, the granddaddy of them all. Through the Google Adwords program a company can get their message out across millions of sites that have signed up to Google Adsense (those tailored ads that you see everywhere and that seem to know exactly what you want) and through Youtube.
Google stands out for many advertisers because it gives them a chance to push a single campaign across many platforms and millions of sites. They can display 30 second or 5 second ads on videos; they can display text ads on websites; and they can display banners on mobile apps. That's why Google are said to generate between $15 and $20 billion every single quarter through advertising spend alone.
Why Some Brands Spend More
Twitter are known to spend about $40 of every $100 in revenue on sales and marketing. This sounds like a disproportionately high figure when compared to other top technology brands, but only because Twitter doesn't quite operate in the same way. It doesn't have a product to sell, so it doesn't need to invest in stock. It is also less reliant on physical assets. What's more, while Twitter is far from a new company, it still has the feel of one as it has notoriously struggled to monetize its platform.
It's one of the reasons why many investors are sitting on the fence with regards to buying Twitter stock. A company that throws a sizable portion of their revenue at sales and marketing is company that looks a little desperate and one that clearly doesn't have confidence in its current setup. This is the opposite of Apple, who spend just 7%, and of Google, who spend 12%.
Of course, it's not always a sign of desperation and could also be seen as a brand that is confident of its offerings and is keen to grow. But it's something that you should check out with any company you plan to invest in. Signs of lost revenue, bankruptcy, impending audits and diminishing profits are also worth checking before you decide to invest in any blue chip stock or established company.