You know the name Tesco. It's the biggest grocery store in the UK in terms of both revenues and market share. And if you're not familiar with it, we suggest you check out our TSCO investment guide.
But what you may not know is that Tesco is more than just a grocery store. It's the largest retailer in the UK, and a few years back it was stated that one in every seven pounds spent was spent at Tesco.
So what's contributed to Tesco's success? How did Tesco finance become such a popular investment? Let's take a look at how the company grew from a tiny military surplus stall to the multi-billion retail giant that it is today.
Tesco's Early Years
If you've read our Tesco investment guide, you'll have a bit of background information about how the company was begun. Jack Cohen opened a little shop in Hackney, and as his sales grew, he expanded to own several shops. Soon after, he opened a few stores in the London area, and Tesco was created.
The name Tesco was formed when Cohen ordered a shipment of tea. The supplier's name was T.E. Stockwell, and Cohen combined the letters T, E and S with the first two of his last name. At that time, Tesco was a retailer of army surplus materials, dry goods and tea. But as Cohen reached higher and higher profits, he began to sell groceries and opened several superstores.
Tesco Finance Today
Tesco PLC has come to rule the market in the UK by becoming more than just a one hit wonder. Originally opened as a grocery store, the company now claims quite a few subsidiaries. Diversity in the products that it offers has allowed TSCO to steer a straight course through an otherwise turbulent market.
One subsidiary, Tesco Lotus, is the company's network of superstores in Thailand. In 1994, Tesco opened its first store in Thailand as a test market. The store was successful, and in 1998, Tesco Lotus was created. There are now 1,400 stores in the Lotus market.
The United States has Straight Talk, and the UK has Tesco Mobile. You may be familiar with how Straight Talk works. Users purchase a phone at Walmart, and the phones operate using AT&T and other towers. Tesco Mobile is similar in structure, and is also a subsidiary of Tesco.
Now, to understand the third subsidiary, think in terms of the Target REDCard. Target offers customers credit or debit cards. The cards can be reloaded online or at customer service, and used in the store to get discounts on Target products. Like Target, Tesco has a banking product. Tesco Bank offers a debit card for consumers, and also offers savings accounts and credit lines.
Tesco owns a few other subsidiaries as well. Dunnhumby is a market research company based in the UK but with a presence in the US. Tesco also owns subsidiaries for each of its markets in Ireland and Turkey, and owns Spenhill, its development branch. Such a diverse portfolio of subsidiaries has certainly contributed to the success of Tesco finance, and has created a brand that's much more than just a grocery store.
Tesco Stores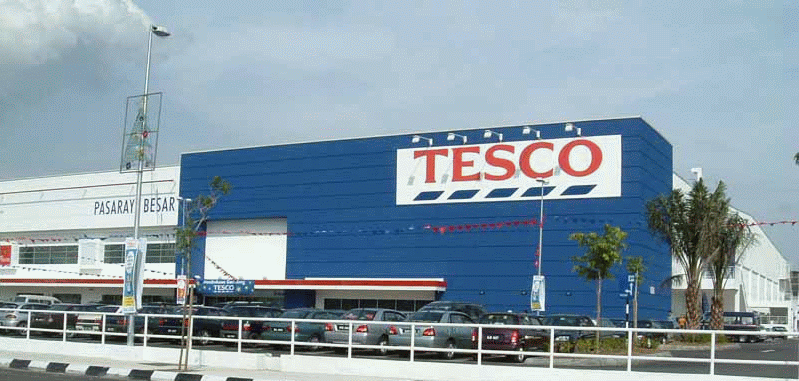 Along with its subsidiaries, Tesco finance relies on the success of the types of Tesco stores that have been launched. Tesco Extra is a hypermarket, much like a Super Target (NYSE: TGT) or Super Walmart (NYSE: WMT). Tesco Extra locations offer groceries as well as electronics, clothing and other products. The larger locations also offer services like opticians, photo services and gas stations.
Tesco also owns smaller locations; grocery stores with a few extra services. These locations don't generally carry as many non-grocery products, but are still larger than Tesco's Express and One Stop locations.
Tesco does offer an internet shopping service. Tesco Direct is the online extension of its stores, offering the apparel and household items available in its retail locations. There's also the option to "pick up in store" for both the household items and grocery products.
The company's got quite a broad range of stores, and that's allowed them to generate profits through the sale of fuel, household goods and financial products. Having a one stop shopping business model allows Tesco to provide consumers with a perception of convenience. That is to say, if you can buy your milk, fill up your gas tank and subscribe to cell service all at the same location, why would you go anywhere else?
The Outlook for Tesco
In recent months, Tesco has reported a 30% rise in operating profit, but its shares are quickly falling. Inflation and accounting scandals are beginning to impact the company, and consumers are experiencing significantly higher food prices.
With that said, Tesco has always had a bit of a bizarre psychological approach to marketing. The company positions products within its stores to encourage impulse buys. But at the same time, Tesco reminds shoppers that in order to save money, they should skip the impulse buys. You can interpret this to mean one thing: Tesco finance is largely dependent on impulse buys.
You've probably heard someone joke about it before – it's easy to walk into Walmart for a loaf of bread and walk out with a loaf of bread, a trash can, some motor oil and a rifle. It's the same way with Tesco shopping. But UK consumers are finding it increasingly necessary to clutch their wallets just a little more tightly, and to not spend as freely on fuel and groceries, much less impulse buys. Tesco may soon see this frugality affect its bottom line.
So is it a good time to buy shares in Tesco? Honestly, it's got a lot going on right now. It was recently hit with a fine of £129 million plus additional costs after a 2014 accounting scandal. We mentioned inflation and how that could hurt the company's profits. And the UK based company will be more deeply hurt by recent political changes than competitors Aldi and Lidl simply due to its location.
But as we noted, Tesco is still seeing its profits rise, and the majority of its competition will face similar struggles with the economy. Overall, we think that with its huge market share and the persistence of its rising profits, Tesco remains a good buy for investors.